World AIDS Day 2022 – Inter-agency Activities

Join the activities to EQUALIZE this World AIDS Day 2022.
In keeping with this, AIDS Service Organizations (ASOs) across Toronto have combined our efforts to observe this important day by doing a series of joint activities as follows:
The Laying of the Black Rose (Thursday, 1 December 2022 at 11:30 AM) at the AIDS Memorial. Each member agency will have the opportunity to lay a rose in memory of somebody who has transitioned due to HIV AIDS complications. This will take place at the AIDS Memorial in Barbara Hall Park, behind the 519 Community Centre. That will be immediately followed by The Interagency March.
The Interagency March (Thursday, 1 December 2022 at 12:00 PM) will begin at the AIDS Memorial and make its way down Church Street to culminate at the YMCA. Each agency will bring sign boards and messages reflecting their interpretation of "Equalize". That will be immediately followed by An Indigenous Feast.
An Indigenous Feast (Thursday, 1 December 2022 at 1:30 PM) will follow at the YMCA Central at 20 Grosvenor St, Toronto, ON M4Y 2V5 which will pay tribute to persons living with HIV across all generations.
Film Screening Following the feast, we will be screening "Walking in These Shoes", a short film on the tragic death of Derek Yee who was a racialized man living HIV and a long-time advocate for the rights of persons living with HIV. He gave his all for the community and supporting PHAs.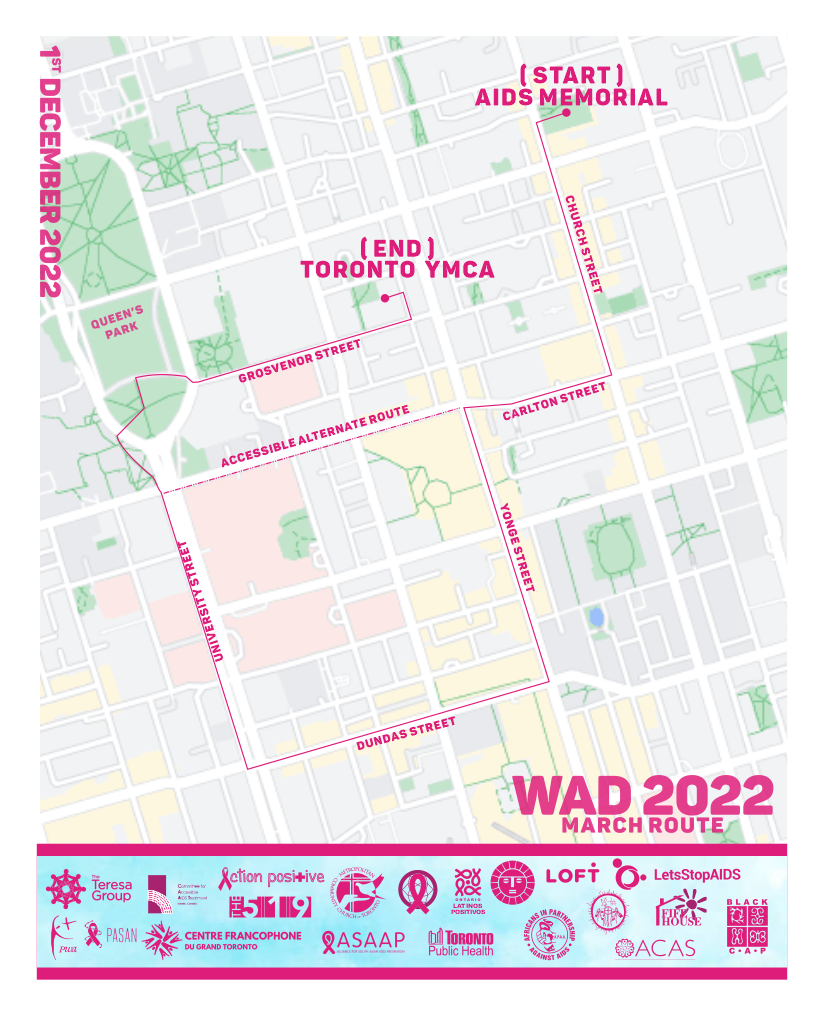 International World AIDS Day 2022 Message

As we celebrate the progress we have made in HIV prevention and treatment among gay and bisexual men, we must also acknowledge the challenges we still face. Racism, poverty, stigma, and homophobia serve as barriers to care and prevention, and continue to drive inequities that cause gay and bisexual men—particularly African Caribbean Black (ACB) men—to be overrepresented in the HIV epidemic.
We continue to work together during the ongoing COVID-19 pandemic and recent MPX (formerly known as monkeypox) outbreak, we strengthen our commitment to ending the HIV epidemic by expanding HIV testing, prevention, and treatment, and reducing HIV stigma. To succeed, we will need to increase efforts supporting ACB gay and bisexual men, who bear the greatest burden of new HIV infections. The disruption of traditional HIV testing services over the last 2 years has made self-testing a great option for some people to take an HIV test, learn their status, and get the benefits of today's prevention and treatment tools. In March 2021, GetaKit by Black CAP was launched in to deliver HIV self-tests to ACB men seeking HIV testing, with marketing focused on gay and bisexual men. These men who know their HIV status, positive or negative, can take steps to keep themselves healthy. If their test is negative, they can be linked to prevention services, including pre-exposure prophylaxis (PrEP). If their test is positive, they can be linked to care and start treatment to keep themselves healthy and prevent transmission to their sexual partners. This "status neutral" approach facilitates the integration of prevention and treatment services so that both become part of the fabric of comprehensive primary care and address the needs of the whole person while mitigating HIV-related stigma.
Antiretroviral therapy, especially early initiation of treatment, significantly reduces the transmission of HIV to sexual partners. When men living with HIV are not diagnosed, do not start on HIV treatment or fail to remain on treatment, it jeopardizes not only their own health, but also the well-being and prospects of their partners, households, extended families and communities. The failure to reach greater numbers of men with HIV testing and early treatment, combined with the limited impact that other prevention interventions have on the risk of men acquiring or transmitting HIV, is driving ongoing cycles of HIV transmission in high-prevalence settings. One of the most effective tools we have to address ongoing challenges in HIV prevention is pre-exposure prophylaxis (PrEP). Unfortunately, not everyone who can benefit from PrEP has access to it. Current PrEP data reflect racial and regional disparities driven by structural challenges such as stigma, racism, and mistrust in the healthcare system. Improving the utilization of HIV prevention, testing and treatment services by ACB men and adolescent boys is a complex but feasible challenge.
As partners in HIV prevention, we each play an essential role in ending HIV in this country. Our commitment and ongoing work can reduce stigma, ensure health equity, and raise awareness about HIV testing, prevention, and treatment. Its success also depends on a holistic approach to the various parts of the syndemic, including STIs, viral hepatitis, substance use and mental health disorders, stigma and discrimination, and social and structural determinants of health. Each community and stakeholder brings a unique perspective and plays a critical role in preventing and responding to HIV.
Together we can make a difference.
Garfield Durrant (He/Him/His)
Men's Prevention Specialist (Lead)
ACB Trans/Non Binary Employment Network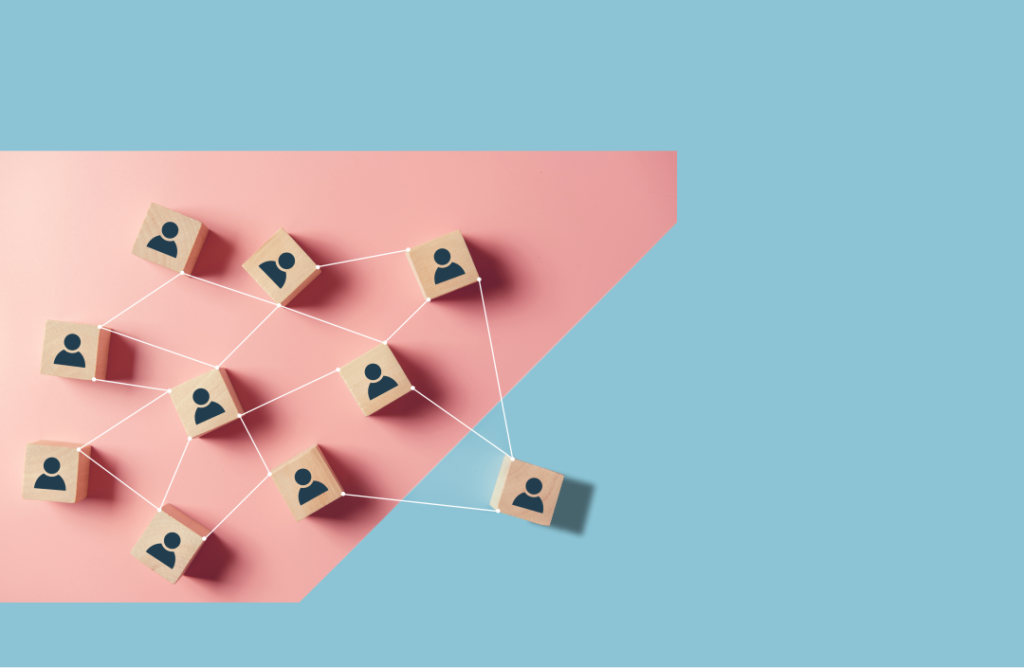 Are you an ACB Trans or Nonbinary Youth? Are you in need of Employment? Join Black CAP's Trans and Non-Binary Youth Networking Employment Event. Seek opportunities, make connections and network with friendly employers!
2 pm – 5 pm | Friday | 02 Dec. 2022
Trans Day of Remembrance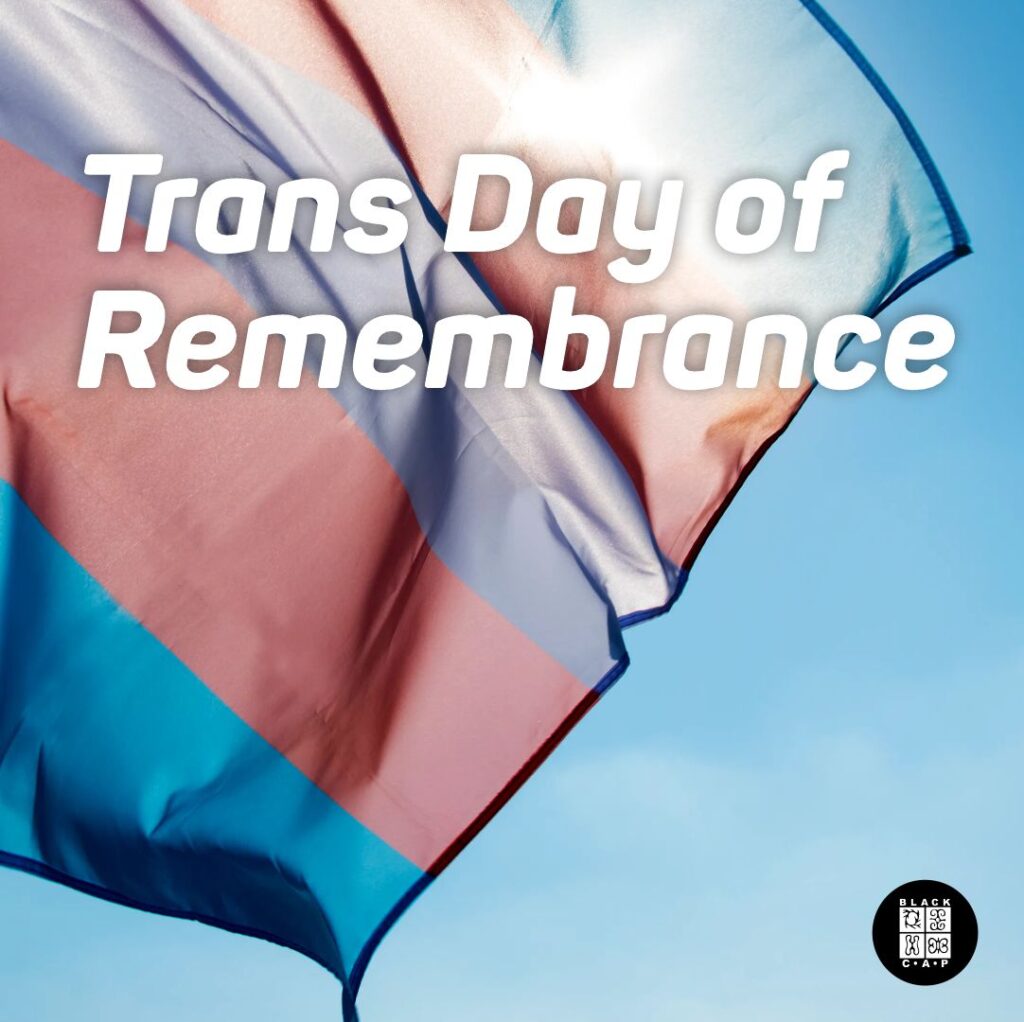 2:30 PM – 5:30 PM Thur, 17 Nov 2022, 20 Victoria Street, Downtown Toronto
A Day to remember and a moment to reflect. Black trans brothers and sisters, join Black Cap in a ceremony of commemorating the countless trans lives that have been lost. We will remember, we will come together, and we will honour them.
See you there..
What's The T' with Kitanya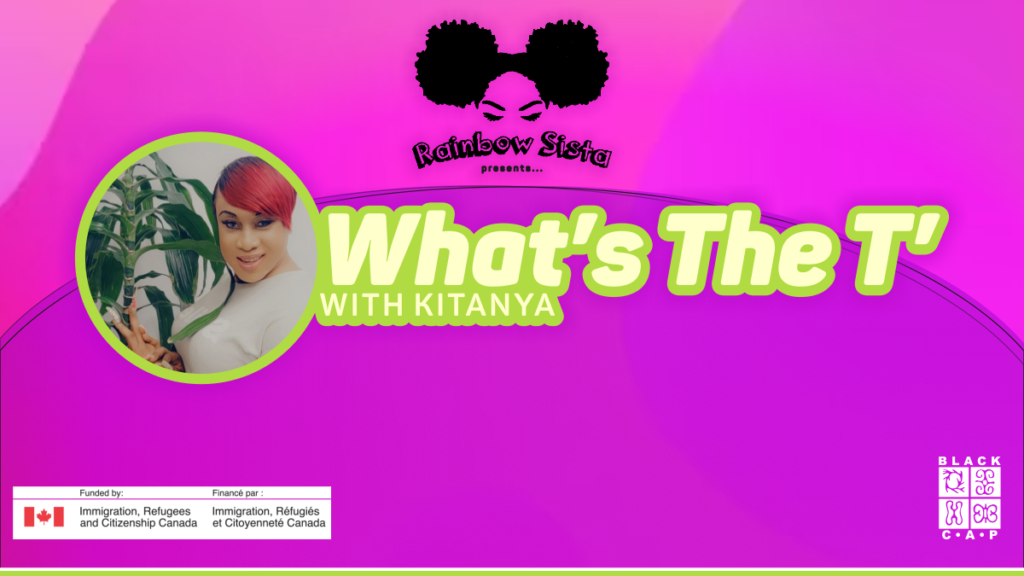 Let's engage in an interactive discussion on how the T fits into LGBTQIA+. How to support trans friends, peers, students, and colleagues. Various transgender identities and pronouns include Q&A and ask me anything sessions.
Volunteer your Design & Media skills!
Black CAP is currently seeking individuals skilled in Graphic Design and Media Editing. This volunteer will have the opportunity to flex their graphic/media skills by creating promotional materials for the several monthly Black CAP programs we provide to our African, Caribbean, and Black community. They provide communications support to the entire organization while supporting the achievement of its long-term and short-term strategic marketing and communications goals, and its fund development goals.
GRAPHIC/MEDIA DESIGNER DUTIES:
Supports the creation and refreshing of print, digital, web, and other online communications and marketing promotional materials.
Including but not limited to social media and other advertisements, toolkits, handbooks, brochures, year book, info brochures, event invitations, web pages, annual report, merchandise, incentives, PowerPoint pitch decks or other fundraising or sponsorship solicitations, stewardship reports or other assets in support of the development objectives.
Contributes to conceptualizing the organization's new brand – telling its story and expressing the brand visually.
Contributes meaningfully to paid and organic digital marketing strategies, while also developing compelling visual assets that complement those strategies.
Provides design support for other departments, sub-brands, and other general branding initiatives, as required, including supporting the creation of self-serve assets.
GRAPHIC/MEDIA DESIGNER SKILLS AND QUALIFICATIONS:
Ability to work with Adobe Creative Suite (and/or other relevant industry-standard design software)
Graphic Design Skills Layout Skills, Creative Services, Customer Focus, Creativity, Flexibility, Attention to Detail, Deadline-Oriented, Desktop Publishing Tools, Acute Vision, Handles Rejection.
Time Commitment: approx. X hours a week
Understanding of digital marketing and design trends
Understanding of the core principles of print, digital, video, and web design
Strong understanding of the elements of design layout and typography
Proficiency in Outlook, Excel, Word and PowerPoint
Ability to multitask and prioritize
Demonstrated commitment to volunteering
Illustrates concept by designing rough layout of art and copy regarding arrangement, size, type size and style, and related aesthetic concepts.
HOW TO APPLY
Please send an introductory email to volunteer@black-cap.com, along with samples of the graphic/media design work you've done in the past 3 – 5 years.