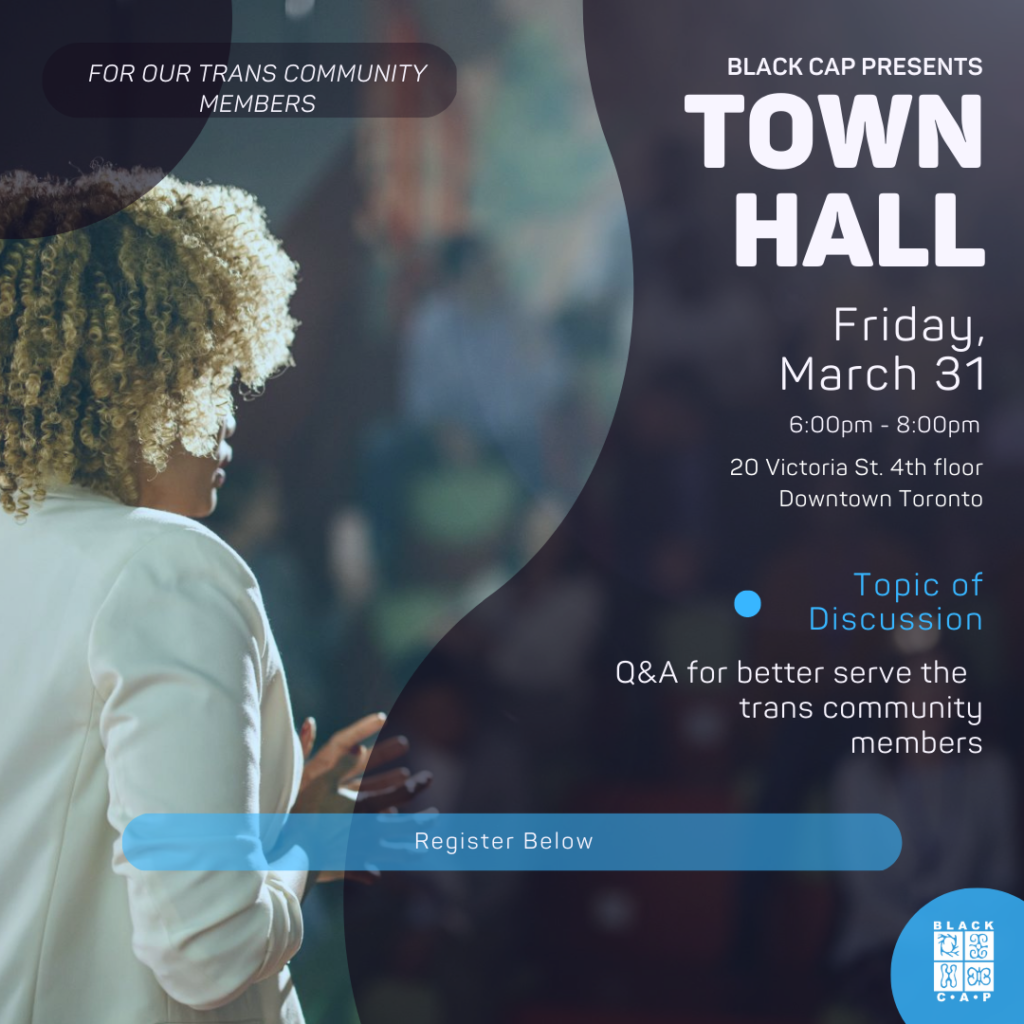 ACB Tax Clinic 2023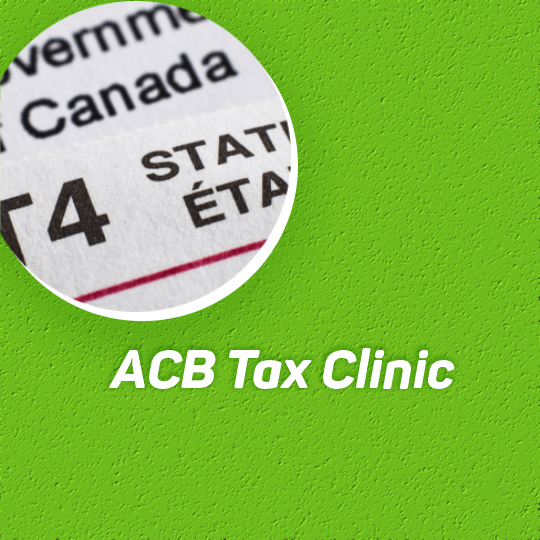 Tax season is here. If you're a member of the African, Caribbean or Black community and you need support with your tax return application this year, we are offering free assistance to qualified individuals or families who meet the following criteria:
Maximum 2 years of filling assistance,
Of African, Caribbean or Black decent.
Ease & Flow Wellness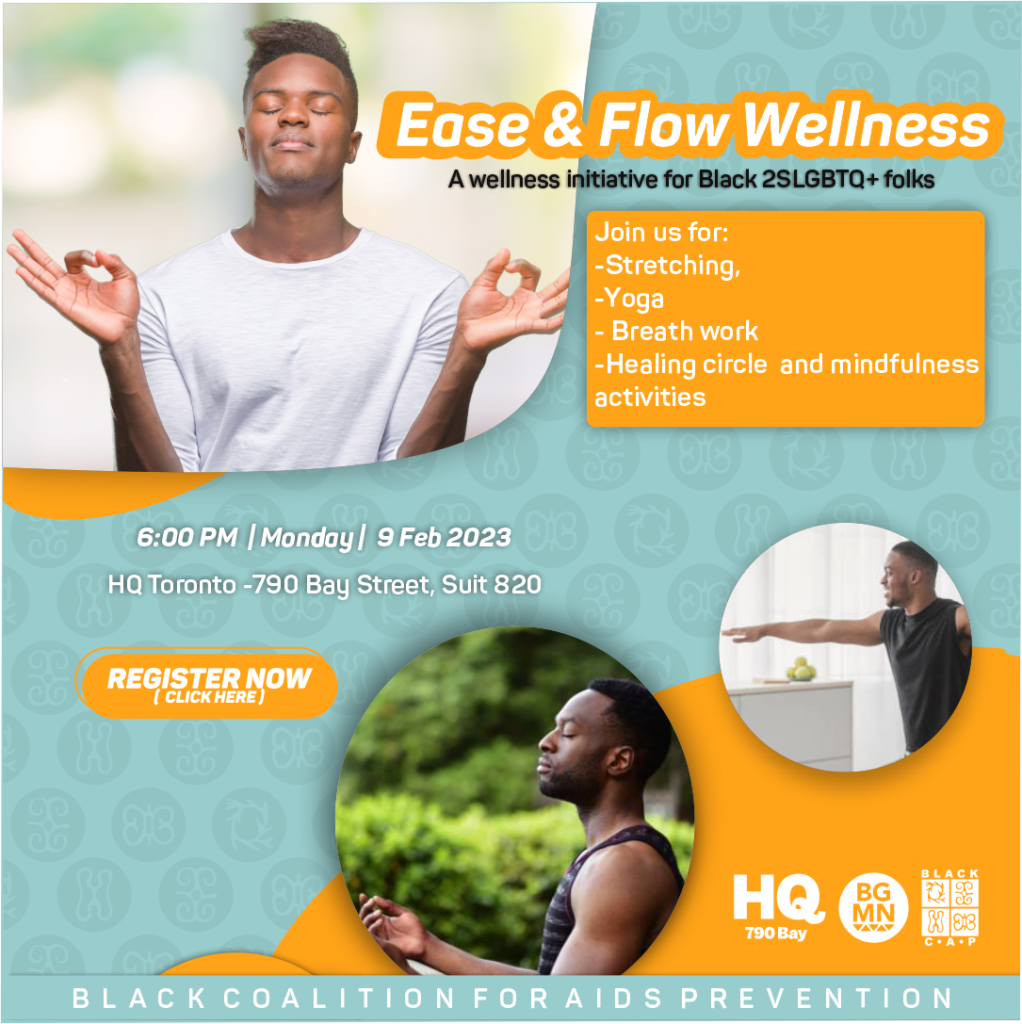 KAZI JOURNEY TO EMPLOYMENT WORKSHOP SERIES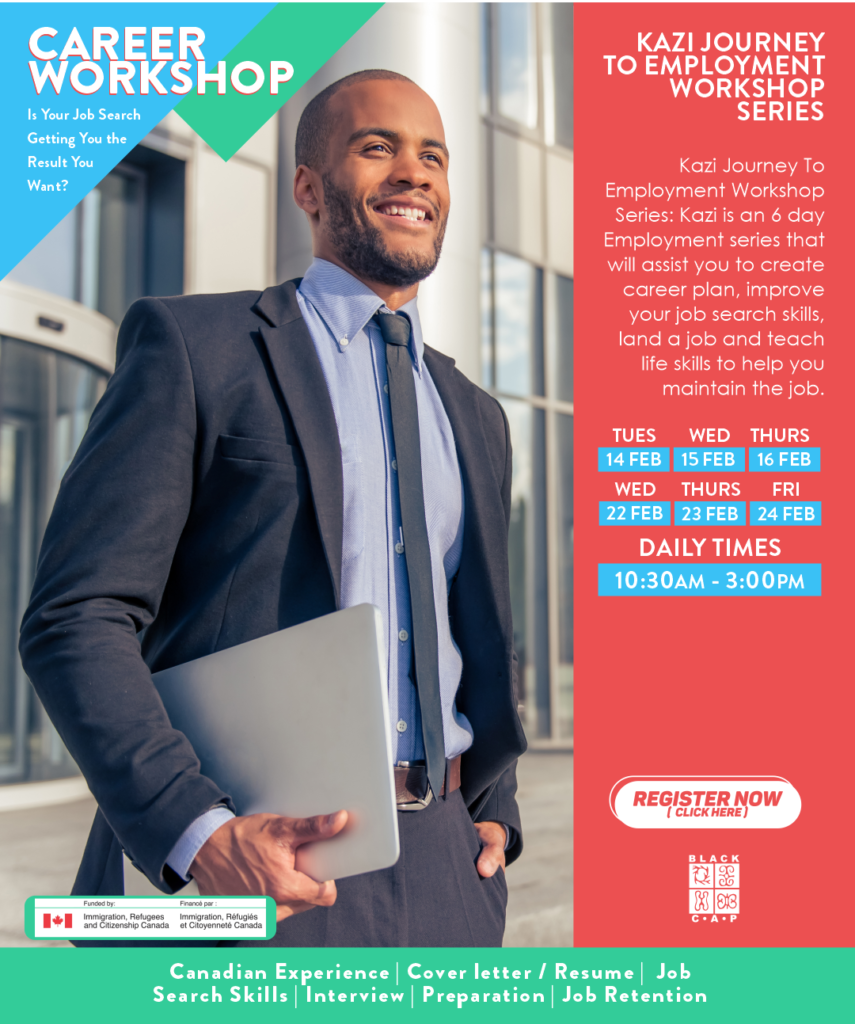 BIPOC Harm Reduction Health Fair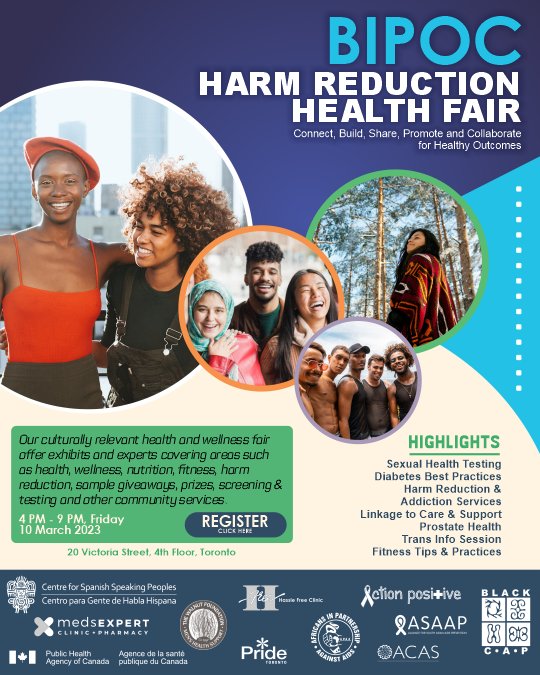 Our culturally relevant health and wellness fair offer exhibits and experts covering areas such as health, wellness, nutrition, fitness, harm reduction, sample giveaways, prizes, screening & testing and other community services.
Sex Toy Bingo & After Party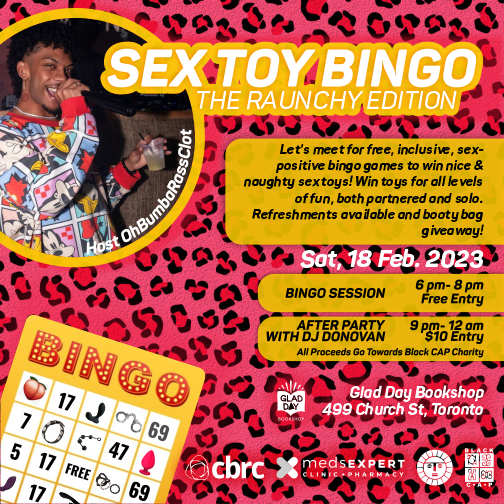 Join Our Queer Creatives Club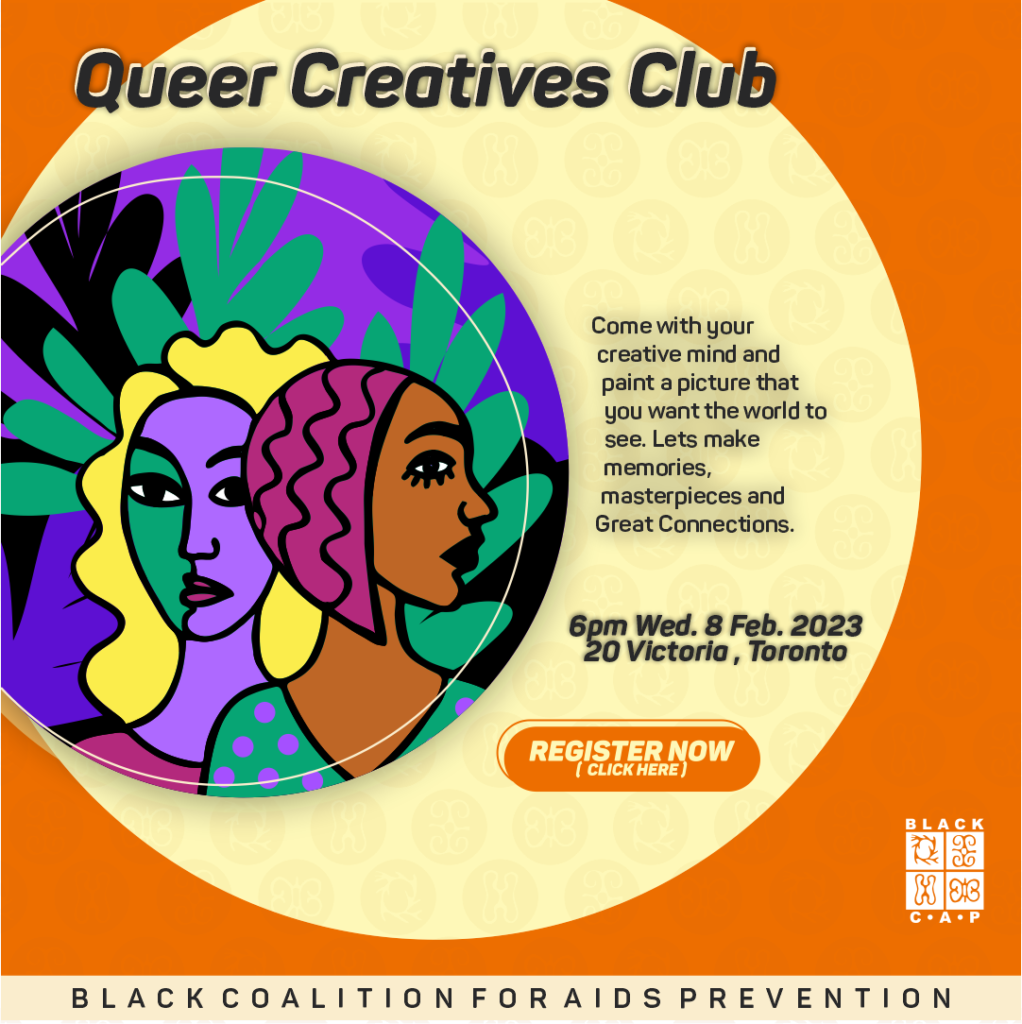 Volunteer Opportunity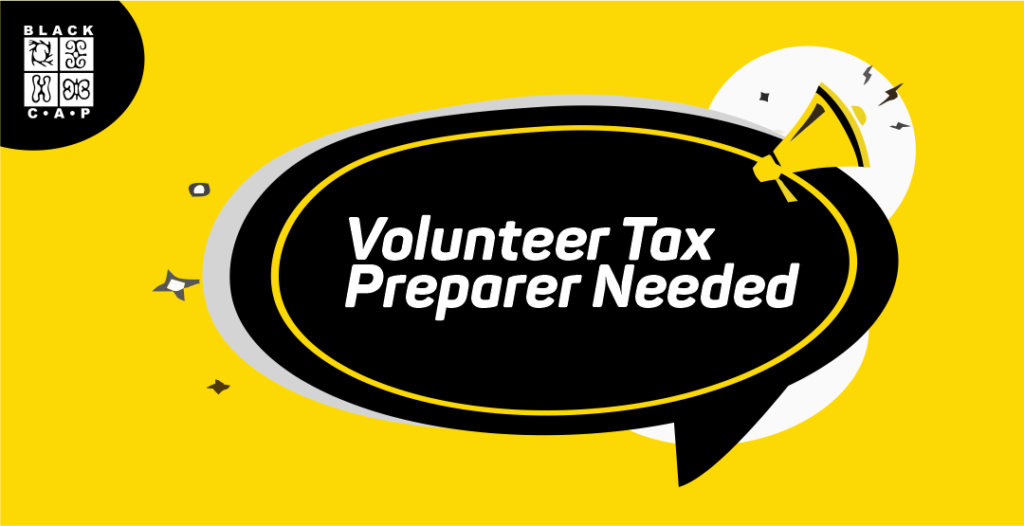 About Us
Black Coalition for AIDS Prevention (Black CAP) has worked to respond to the threat of HIV and AIDS in Toronto's African, Caribbean and Black communities. Our work is guided by our motto, 'Because All Black People's Lives Are Important', which serves as a reminder of our commitment to the human rights and dignity of all Black people who are vulnerable to HIV and sexually transmitted infections (STIs).
We deliver support services that meet the health and wellness needs of our clients who are living with or affected by HIV or AIDS. To do this, we provide much needed counselling, settlement, practical and peer support, employment, housing and social support services that help people achieve their goals.
We also work with men, women, youth and LGBTQ communities to increase their knowledge and reduce their vulnerability to HIV, AIDS and sexually transmitted infections. This is accomplished through prevention, outreach and harm reduction programming that is delivered in communities across Toronto.
Core Responsibilities:
Prepare tax returns with clients, reviewing tax documents and financial records, and processing simple to complex income tax returns using our professional software system.
Answer any client questions clearly, accurately, and with confidence.
Assist with eFile batch preparation and submission.
Ensure client confidentiality and privacy is secured.
The volunteer position requires an efficient, motivated, experienced candidate and working with LGBTQ members
Qualifications:
2+ years of prior tax preparation experience with professional tax preparation software
Completed course of study CVITP-Toronto-Centre
Strong verbal and written communication skills and the ability to effectively communicate in person and Black Demographic
Previous experience in a customer service environment or a service provider
Knowledge and experience with a Windows based computer system
If you are filing returns electronically through EFILE, or electronically through EFILE and by paper, you must:
Schedule:
Just be available to volunteer with the organization tax Clinic hours (Hours may be negotiable, based on appointment availability):
10:00 am to 2:00 pm Monday
10:00 am to 2:00 pm or 1:00 pm to 5:00 pm Tuesday and Friday (4-hour shift)
Virtual Appointments(negotiable) Managers approval.


To apply, please forward your resume and cover letter to: volunteer@black-cap.com
Job Types: Seasonal- March -May
Volunteer Contract length: 3 months
Schedule:
Flexible start shifts.
Appointments ONLY
Day/Evening shift
2 Days out of the Week
COVID-19 considerations:
We take all public health requirements and recommendations very seriously and follow all current public health guidelines.
Experience:
Canadian professional income tax preparation: 1+ year (required)
Shift availability:
Day Shift (required) TBA
Evening Shift (required)TBA
Application deadline: 2023-02-30
Trans Beauty Boutique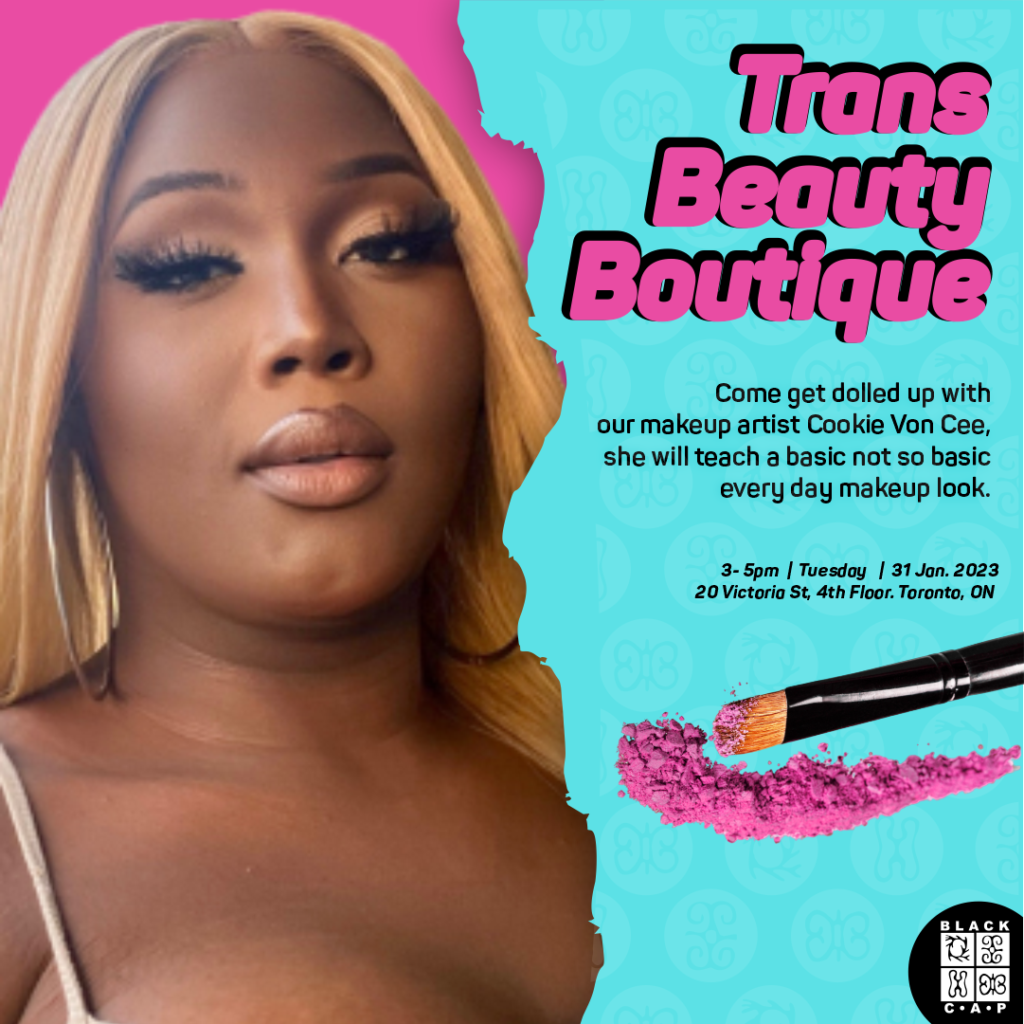 Intake and Mental Health Coordinator
Position Type: Outreach
Supervised by: Mental Health and Direct Services Manager
Salary Range: $49,000 -$52,000
Days per week: 5 (37.5 hours per week)
Department: Outreach/Prevention
Years of Experience: 1 year
The Black Coalition for AIDS Prevention (Black CAP) is a non-profit, community-based organization that serves Toronto's diverse African, Caribbean and Black (ACB) communities. The mission of the agency is to reduce the transmission of HIV within Toronto's Black communities while enhancing the quality of life of those living with or affected by HIV/AIDS. Our approach to services recognizes that holistic approaches are required as we work with people who are living with, or at risk for, HIV. Black CAP is an inclusive space that provides services to a diverse ACB population that includes newcomers, LGBTQ communities, youth, and other at-risk populations. Operating in downtown Toronto, we are supported by a broad range of government and foundation funders. As an employer we also offer competitive compensation, a comprehensive health benefits plan, an Employee Assistance Program, annual RRSP contributions and access to a wellness program. To learn more visit us at www.blackcap.ca or on social media (Facebook and Twitter) at @BlackCAPTO.
Position Summary:
We are seeking an intake and mental health coordinator responsible for managing our intake processes at Black CAP and supporting our mental health services and referral processes. This individual has a background and/ or education in mental health and support services along with experience operating from a trauma informed lens and harm reduction ap They are comfortable working with folks from varying backgrounds and experiences and are passionate about supporting the ACB community.
The Coordinator will be responsible for client intakes and assessments, coordinating workshops and groups, and providing system navigation support. They will work collaborating with other members of Black CAP's support team and other Black CAP staff and volunteers to achieve the objectives of the program/ mission of Black CAP.
* Please note that we strongly encourage candidates from Toronto's African, Caribbean or Black communities who bring lived and/or employment experience in relation to mental health and harm reduction. We also strongly encourage applicants who are living with HIV to consider this role.
Key responsibilities of this position include:
Assessing the needs of clients received from the community, counselling, advising and/ or referring to other services, agencies or programs and developing strategies for each.
Providing system navigation supports and identifying appropriate referrals to complementary programming based on a determinants of health framework.
Maintain knowledge of existing and emerging services for ACB PHAs and develops service relationships with relevant organizations.
Providing mental health supportive counselling for clients where needed.
Referring clients to Black CAP's registered psychotherapist.
Entering data into Black CAP's data collection system.
Conducting appropriate follow-up and complete monthly/ annual reports
Representing the agency on appropriate community networks and working in conjunction with other agencies and community groups to coordinate/facilitate the delivery of services.
Participating as a team member on the delivery of other activities in the Support Department.
Attend and participate in bi-weekly staff meetings and team meetings.
Other duties as assigned.
We are seeking an individual with the following qualifications:
Firm understanding of mental health and harm reduction practices within ACB communities.

Knowledge of HIV/AIDS, STIs and sexual health issues and the impact of HIV/AIDS in Toronto's ACB communities with excellent skills and knowledge of community resources and supports.

Comfort facilitating groups and presenting to crowds.

Ability to enter accurate information into data collection websites in a timely manner.

Demonstrated ability delivering intensive, short-term counselling and support services to Black HIV positive and/or LGBTQ folks in crisis, helping them to address their specific challenges, and referring and supporting them to access required services.
Experience researching effective strategies and models for peer-based programming for individuals and groups to inform program delivery.
Experience providing system navigation supports and identifying appropriate referrals to complimentary programming based on a determinants of health framework
Ability to work and operate in an environment using anti-racism and anti-oppression frameworks.
Ability to accept feedback and take initiative as well as work independently and cooperatively with staff and volunteers in a culturally diverse environment.
Strong written and oral communication skills.
Self-motivated and able to work effectively under pressure while maintaining a positive and friendly attitude as you deal with multiple personalities, projects and deadlines.
Knowledge of MS Office (Microsoft Word, Excel and Power Point), internet and email are essential.
Willingness to work flexible hours including weekdays, evenings and weekends.
The ability to speak a language other than English is an asset
This is a bargaining unit position reporting to the Mental Health and Direct Services Manager.
The position is subject to a 3-month probationary period. We thank all applicants; however only those selected for interviews will be contacted.
Deadline for applications: 20 January 2023
Please forward your resume and cover letter to the following:
Daniella Leacock
20 Victoria St., 4th Floor, Toronto
email: hiring@black-cap.com